Construction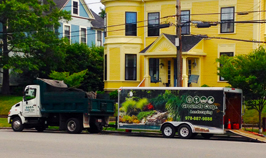 Working from the landscape design plan our crew will install all of the elements of the plan. Only top quality materials are used.
• Site Work - Grading, Excavation, Tree Removal, Drainage
• Lawn Installations - Soil preparation, Seeding, Sodding, Hydroseeding
• Plantings - Trees, Shrubs, Annuals & Perennials
Note: We also offer native plants, deer resistant plants and drought tolerant varieties
Call 978-887-9888 for a free quote!