Walls, Walks, Patios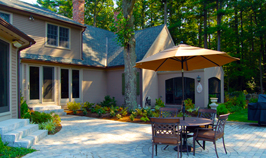 Stone's strength and durability make it one of the best investments you can make to improve the look and value of your property.
With a wide array of textures and rugged good looks, stone conveys a sense of permanence and timelessness unmatched by any other material.
From brick, to cobblestone, bluestone and granite, Grounds Corps' master stoneworkers are highly experienced with a wide variety of materials. Grounds Corps exceptional quality workmaship will last a lifetime.
Some of the great ways stone can improve your home
Free Standing Stonewalls – all types of stone, wet or dry
Patios - Bluestone, Brick, Pavers
Pool Coping
Walkways - Bluestone, Brick, Pavers
Steps - Granite, Stone, Brick
Driveways & Aprons
Call 978-462-9888 for a free quote!